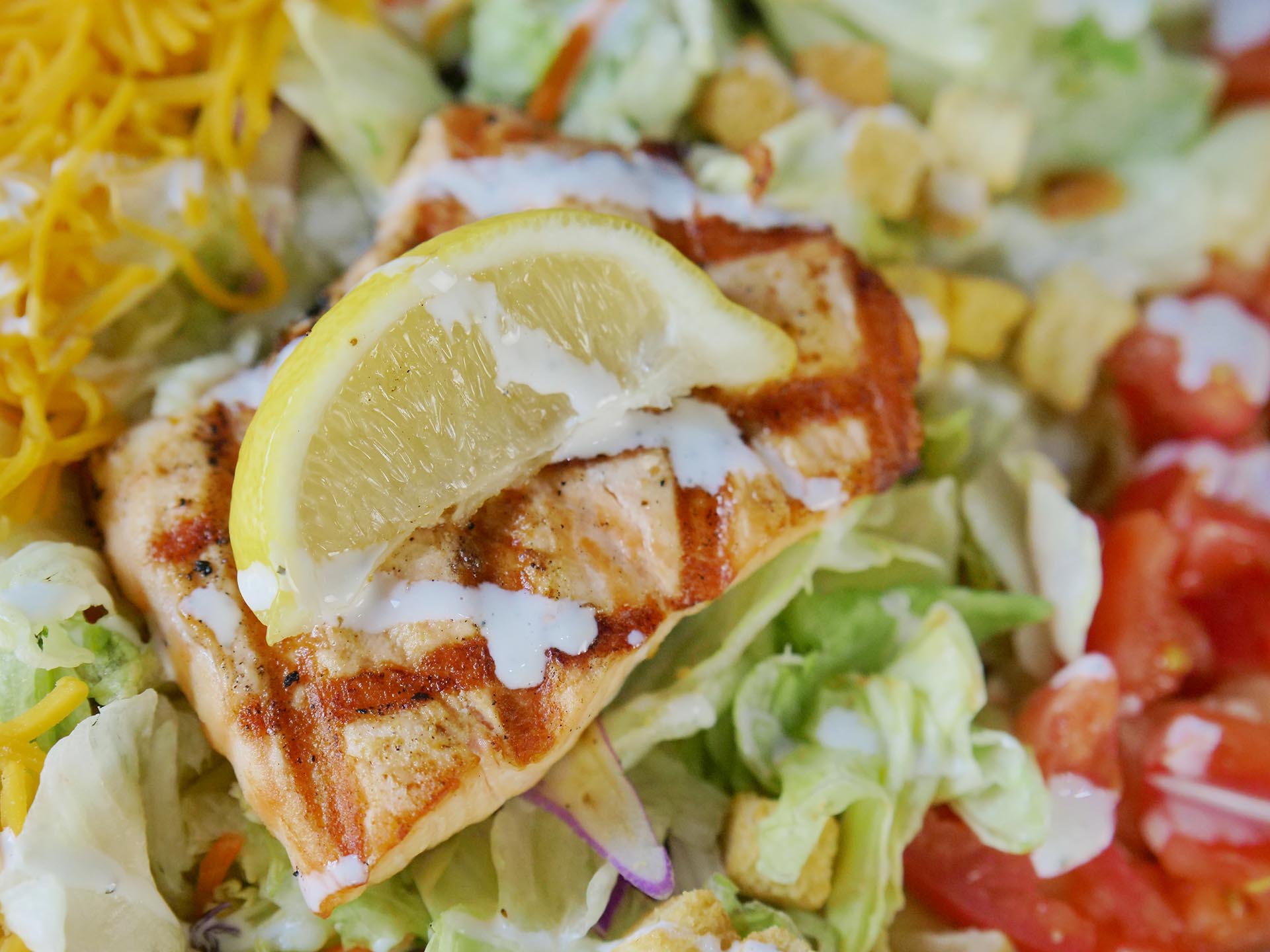 Smoked Salmon Chunk Served w/ Crackers 
Smoked Salmon Spread Served w/ Crackers
Wahoo Spread Served w/ Crackers 
Fried Oysters (8) 
Buffalo Shrimp (8) 
Crab Fritters (8) 
Ashley's Shrimp Fritters (8) 
Calamari Rings 
Onion Petals 
Pepper Jack Cheese Shotz 
Fried Pickles 
Oyster Shooter 
1 oz. Premium Tequila, Oyster & Pink Cocktail Sauce
Clams Steamed (12) 
Mussels Steamed (approx. 1 lb.) 
U peel 'em!
1/4 lb. Medium 
1/2 lb. Medium 
1 lb. Medium 
1/4 lb. Large 
1/2 lb. Large
1 lb. Large 
SIDE ORDERS
Homemade Hush Puppies – Complimentary
French Fries 
Onion Rings 
Baked Beans 
Cole Slaw 
Baked Potato Salad 
Sweet Potato Fries 
Green Beans (night only) 
Baked Potato (night only) 
Garlic Cheese Grits (night only) 
Baked Sweet Potato (night only) 
Okra
Applesauce
Tossed Salad 
Topped with your choice of any fish or chicken (grilled or fried), or smoked salmon; includes tomatoes, cheese, croutons, and choice of dressing: Lite Italian, Bleu Cheese, Buttermilk Ranch, Fat-Free Ranch, 1000 Island, Honey Mustard or House Vinaigrette
Tuna Salad Plate 
Made-fresh yellowfin tuna salad piled high on a bed of lettuce surrounded by tomatoes and served with crackers
Side Salad
Caesar Salad 
New England Clam Chowder 
Homemade New England or Manhattan Clam
Free Refills!
Fountain drinks, iced tea & coffee 
BEER, WINE & PREMIUM MARGARITAS AVAILABLE
See chalkboard in our restaurant for selection & prices. Beer on tap or bottle. Wine by the glass or bottle.
Key Lime Pie 
Cheesecake with strawberries 
Cheesecake with caramel drizzle sea salt and pecans 
Fresh Fish • Shrimp • Scallops • Lobster Tails • Live Maine Lobster (special order) • Snow Crab • Fresh Crab Meat • Crab Meat Stuffing • Alligator • Oysters • Clams • Crawfish • Smoked Salmon • Frog Legs • Mike's Fish Spread
Captain's Plate 
Choice of 3: fried or grilled cod, fried flounder, grilled tuna, fried or steamed shrimp, clam strips, fried oysters, fried catfish & stuffed crab
Mate's Plate 
Choice of 2 from Captain's Plate (above)
Scallops
Grilled or fried
Mike's Crab Cake 
Made fresh in-house
Stuffed Crab 
Maine Lobster 
Snow Crab (approx. 1 lb.) 
King Crab (approx. 1 lb.) 
Grouper grilled or fried 
Jumbo Shrimp (6) grilled or fried 
30 Shrimp Dinner
10 grilled, 10 steamed & 10 fried
Sautéed Garlic Shrimp 
Coconut Shrimp 
Grilled Shrimp
Lunch: 1 skewer / Dinner: 2 skewers
Shrimp 
Steamed or fried
Popcorn Shrimp 
Grilled Salmon
Bourbon Salmon 
Grilled Swordfish
Lemon Pepper or Blackened
Tilapia
Grilled or Fried, Lemon Pepper or Blackened
Grilled Yellowfin Tuna
Lemon Pepper or Blackened
Mahi Mahi 
grilled or fried
Lemon Pepper or Blackened Flounder
served fried only
Trout
Grilled, fried or smoked
Lemon Pepper or Blackened
Fried Clam Strips 
Fried Oysters 
Fried Catfish 
Filet or Whole
Snapper 
Grilled or Fried
Halibut
Grilled or Fried
Red Fish
Grilled or Fried
Cod
Grilled or Fried
Ribeye 
12 oz. cut seasoned and cooked to your desire plus your choice of 2 side orders (rare = red; med = pink; well = who cares)
Filet Mignon 
Two (2) 4 oz. cut seasoned and cooked to your desire
plus your choice of 2 side orders
(rare = red; med = pink; well = who cares)
Add 10 Shrimp 
Grilled or steamed only
Blackened Cajun Shrimp Tacos
Mahi Taco
3 tacos served with one choice of side
Chicken Breast 
Boneless & Skinless. Choice of fried, grilled lemon pepper or blackened, with your choice of 2 side orders
Chicken Strips
Fried and served with honey mustard or BBQ sauce plus your choice of 2 side orders
Chicken Wings 
Naked or Buffalo/Cayenne-style with bleu cheese or ranch dressing plus your choice of 2 side orders
For Children under 12 years old
Choice of popcorn shrimp, cod, clam strips, hot dog, or chicken strips served with your choice of French fries, hush puppies or onion rings 
Adult's Child Plate 
Served with choice of 1 side order
Mahi Mahi grilled or fried
Lemon Pepper or Blackened
Tilapia grilled or fried 
Lemon Pepper or Blackened
Yellowfin Tuna 
Served grilled only. Lemon Pepper or Blackened
Tuna Salad 
Made-fresh yellowfin tuna
Swordfish 
served grilled only. Lemon Pepper or Blackened
Flounder 
served fried only 
Grouper 
Grilled or fried
Salmon
Served grilled only
Cod 
Grilled or fried
Halibut
Grilled or fried 
Catfish 
Grilled or fried
Mike's Crab Cake
Po' Boy 
Your choice of fried oysters or fried shrimp
Chicken Fillet grilled or fried
Grilled Steak Burger
Hotdogs (2) any way you want it